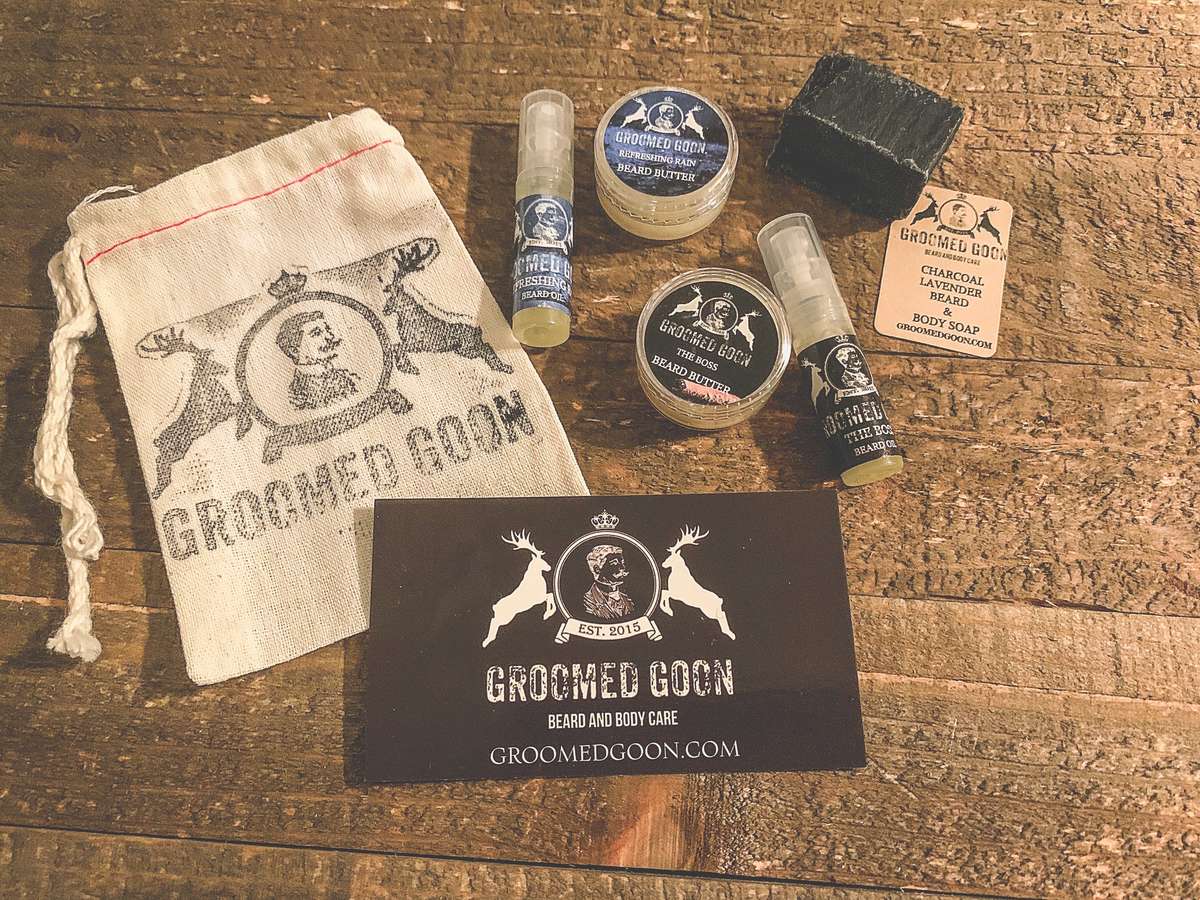 GET 5 SAMPLES FROM GROOMED GOON
WE GET IT...YOU HAVE SPENT TONS OF MONEY ON BEARD CARE ONLY TO DISCOVER ITS NOT WHAT YOU HOPED FOR.

ARE YOU TIRED OF YOUR WIFE TELLING YOU TO SHAVE, OIL STAINED SHIRTS, SHORT LIVED SCENTS, AND A DULL/DRY BEARD? THEN YOU'RE IN THE RIGHT PLACE!

WE ARE SO CONFIDENT THAT YOU'RE GOING TO LOVE OUR PRODUCTS THAT WE ARE OFFERING OUR TRIAL PACK AT COST+SHIPPING $7 (USA ONLY). LIMIT ONE PER PERSON.

THATS RIGHT...WERE NOT MAKING ANYTHING ON THESE BECAUSE WE KNOW YOU'LL COME BACK AFTER YOUR TRY THEM :)
WHATS INCLUDED IN GROOMED GOON'S
TRIAL PACK?
TWO - 5ML OIL VIALS
TWO - 5G BUTTER JARS
ONE - BEARD AND BODY SOAP SAMPLE
SCENT DESCRIPTIONS...
Bay Rum: Like a tropical vacation for your beard. Its our strongest scent with spicy and beachy tones.


Coconut: Our summer blend will make you feel like you've been transported to paradise!


California Citrus: Clean citrus notes will leave you feeling like you're in a CA orange grove.


Old Time Barbershop: Fresh, herbal, aromatic, clean, with some light lavender undertones. It has a distinct old school vibe that pairs well with a proper mustache and clean beard.


*Old West: A favorite with our customers. Light, slightly sweet, masculine and reminiscent of a simpler time.


*Refreshing Rain: Cool, clean, and invigorating to keep you fresh all day.

*Bestseller


SCENT DESCRIPTIONS CONTINUED...
Roasted Oatmeal Stout: This blend will be sure to put you in the holiday spirit, and make everyone else think you're smuggling cookies in your beard. Now available year round at our customers request.


*The Boss: Fresh tobacco with warm vanilla undertones will have you feeling like a boss.


*The Gentleman: Masculine undertones, notes of cedar, and hints of leather. You're sure to be the most dapper smelling man in the room.


Stress Relief: Eucalyptus and spearmint combine to calm your mind and soothe you spirit for hours on the days you need it most.


Sandalwood Bourbon: A woody, amber-moss and spice scent thats inviting and invigorating.

*Bestseller


If you want a thicker, healthier, and more manageable beard then Groomed Goon is what your beard deserves. We guarantee you'll love it!
Thank you so much for choosing us for your grooming needs!